Proposed Hotel Tax Abatement Videos
in reverse chronological order

---
Since January 2011 -- The Adams Morgan community has been given almost no updates by the Councilmember about the plans regarding the hotel project. CM Graham has said that the community would be more involved once he got his tax abatement bill passed, yet he has put almost nothing about the project on any of the Adams Morgan listserves since January 2011.

---
December 21, 2010 -- CM Jim Graham forces through the $46 million dollar tax abatement, with the help of CM Jack Evans (Ward 2) at the last City Council session of the year. Agenda for the December 21 meeting.




Video of full discussion




Voting in Favor (9):
Tommy Wells, Yvette Alexander, Marion Barry, Kwame Brown, Michael Brown, Jack Evans, Vincent Gray, Tommy Thomas

Voting in Opposition (3):
David Catania, Mary Cheh, Phil Mendelson

Voting 'Present' (1): Muriel Bowser


Mary Cheh, Ward 3

David Catania, At Large
Marion Barry, Ward 8

Phil Mendelson, At Large

Some news coverage of the vote here:

Here's a note from Jim Graham, typed from the Council dais minutes after the legislation passed >>
On 12/21/2010 12:35 PM, Jim Graham wrote:
>
> Dear Friends, I am pleased to inform you that the Council has now passed my bill to provide a tax abatement sufficient to build a new hotel at Champlain and Euclid, thus preserving the historic First Church of Christ Scientists. The Advisory Neighborhood Commission supported the abatement in a vote last Thursday with the assurance that job requirements would be imposed.
>
> This council action is good news for our neighborhood and the city. It will bring substantial new day time commerce to Adams Morgan. It will provide $7 million in new tax revenue. It will provide hundreds of construction and hotel jobs to Ward 1 and the City residents. An historic church will be saved. The abatement will NOT take effect until the hotel is completed and a certificate of occupancy is issued.
>
> I want to thank all who contributed to this positive result.
>
> Bests, Councilmember Jim Graham
---
December 16, 2010 -- Advisory Neighborhood Commission hosts a forum about the tax abatement regarding the Marriott Hotel project. The Commission passes a compromise bill which conditionally supports CM Graham's tax abatement proposal. Video of the meeting can be found here.

At the forum, Jim Graham expressly denies that he ever used the term "5-star hotel" regarding this proposed hotel project. Yet, his office sent a notice of their intent to introduce emergency legislation for a "5-star hotel" at the last Council session of 2010.

Recently, at least one dissenting opinion from the local ANC Commission, that of Chris Otten, ANC-1C02, was posted to a local news site. He submitted his dissenting response in which he states,
"I strongly believe our Commission and the community deserve more time to contemplate the value of this deal, develop a real community benefits package, and prepare real expectations in writing. I am tired of the rhetoric without meaningful and comprehensive data to back it up. Careful examination in a collaborative process would not take much more time... this is not an emergency."
There was also some news coverage of the ANC forum here:
---
December 7, 2010
One day after being marked-up in haste by the Finance Committee, the DC City Council was to then consider it at their second to last Council session of this election cycle.

Former ANC Commissioner and current At-Large Councilmember Phil Mendelson said that the Committee had not followed the rules with regards to public notice of the mark-up hearings. He also referred to the bill "controversial" given the major cuts to social services the Council was also considering the same day.
City Council Chair Vincent Gray agreed to remove proposed tax abatement legislation from the Council agenda despite CM Graham's pleas to waive the procedural rules.
---
December 6, 2010
The Committee on Finance and Revenue untables the bill after reducing the tax abatement to 46 million dollars. The initial community opposition has already afforded the City 15 million dollars in this backwards deal.
---
December 2, 2010
The Committee on Finance and Revenue, chaired by CM Jack Evans, has a hearing about the tax abatement legislation. The Committee votes to table the bill due to lack of information.
---
OCTOBER 7, 2010
There was only one (1) hearing to discuss the proposed hotel tax break of sixty-one million dollars. It was held on October 7, 2010 at the Wilson Building.
Videos of those who testified can be found below.

Noticeably absent are any ANC Commissioners as there was no formal invitation from the office of the Councilmember to the affected Commission.

Nor did Graham's staff inform the broader community about this tax abatement idea or hearing -- there were no posts on any Adams Morgan listserves, where Jim Graham and his staff prolifically post announcements.


Opening Comments

Jim Graham and Jack Evans on tax abatements

Church Representative

OCF [testimony]

Adams Morgan Main Street (AMM)

Developer

DCFPI [testimony]
| | |
| --- | --- |
| Google Maps | Satellite Maps |
| | [ no sale ] |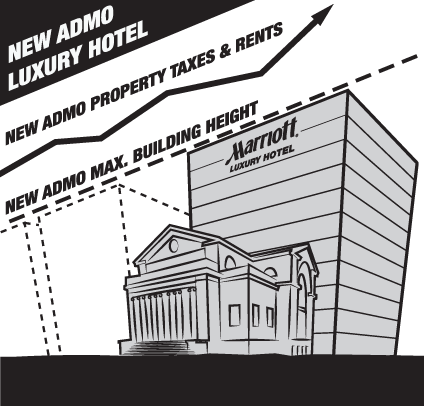 [ home ]


---
Ward One City Councilmember, Jim Graham, wants to the City to pony up taxes to help a wealthy developer put an immense luxury Mariott hotel in the middle of our mom-and-pop unique Adams Morgan neighborhood.
No impact reports have been produced on how this massive structure will impact general development plans for our neighborhood going forward, or studies on what the 5-star hotel may do to property taxes and rents of nearby apartments, houses, and businesses, and no there has been little meaningful discussion about how a project of this size and implication may affect Adams Morgan families.
Contact the City about your concerns.
W1 Councilmember Jim Graham
jgraham@dccouncil.us, (202) 724-8181


City Council Switchboard (to reach all At Large Councilmembers)
dccouncil@dccouncil.us, (202) 724-8000


Contact your Adams Morgan Advisory Neighborhood Commissioners
http://tinyurl.com/anc1c-commissioners


OR, USE THIS EASY ONLINE MAIL FORM
TO SEND THE COUNCIL A NOTE OF CONCERN